Experience Condado Vanderbilt's Presidential Hotel Suite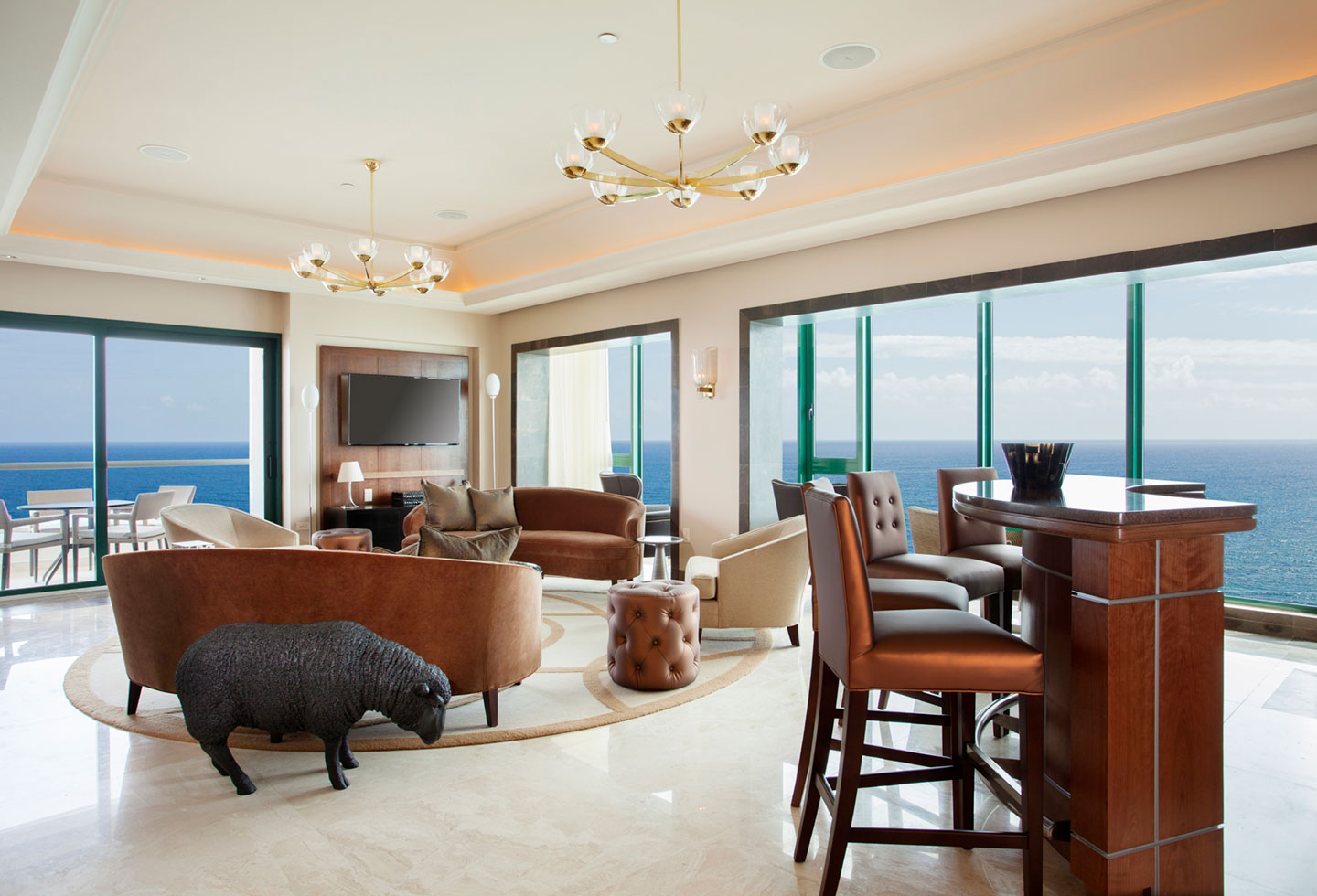 Experience Our Presidential Suite
Imagine yourself awoken by the immaculate Caribbean sunrise, from a restful slumber in your lavish king bedroom. Step outside each morning to one of your three private balconies and sip on freshly made coffee from your state of the art french press. Then sit back and stare off into the dramatic views of the Atlantic Ocean and the San Juan cityline, as the soft ocean breezes awaken your senses.
To experience this, and so much more, book a stay in Condado Vanderbilt's luxurious Presidential Hotel Suite. Perfect for entertaining, this suite has a bar area for up to four guests, dining for up to six, a kitchenette, a wet bar and countless amenities. With three bedrooms, two bathrooms, and a tall, spacious living area, the presidential suite is as grandeur as it gets with absolutely no detail overlooked. From the bamboo towels to the stone-topped vanity, every part of your stay will be filled with extravagant comfort.
A Romantic Dream Getaway
If you're looking for your dream wedding or romantic honeymoon getaway, Condado Vanderbilt's Presidential Suite offers all the amenities and detail to make your romantic experience unforgettable. Indulge in the fresh air and take in the Caribbean ocean breeze with a balcony attached to each of the three bedrooms. The suite offers the perfect opportunity to entertain your friends, or you may choose to enjoy the spacious and luxurious living room area all to yourself.
Exceptional Guest Services
From the moment you walk in the doors of the Vanderbilt our staff will provide you with impeccable service. With our 24 hour suite butler service available, we'll be there to cater to your every request. When you're ready to explore San Juan, let us take you where you need to go with your very own private transportation.
Condado Vanderbilt offers exceptional guest services that will help you make the most of your San Juan stay. Go to Ashford Avenue to shop in some of San Juan's most luxurious high end stores, including, Louis Vuitton, Cartier, Gucci and Mont Blanc. From local shops to water skiing - our guest services will assist in planning your dream vacation.
Renowned Culinary And Spa Experiences
From fine dining to casual bistro, the Condado area is filled with countless restaurants to meet everyone of your dining needs. Or revel in some of San Juan's most memorable culinary experiences without ever leaving the hotel. Enjoy mimosas during brunch at Ola Oceanfront Bistro, or sit back for happy hour and adore the relaxing ocean views at Tacos and Tequila. With a Wine Spectator Award at the 1919 Restaurant and our very own 2 Star Michelin Chef, our fine dining options enlighten the lavish offerings the Condado Vanderbilt has to offer.
When you're ready to unwind, treat yourself to a luxury spa service from our very own Vanderbilt spa. Besides having only the most regal body treatments, massages and facial services we are the only luxury hotel in Caribbean to offer the Hammam ritual - a truly purifying mind and body experience.
Condado Vanderbilt takes pride in our immaculate hotel and our luxurious Presidential Suite. Every detail of the Presidential suite was designed to make your stay as comfortable and relaxing as possible. This suite surrounds you with the breathtaking San Juan landscapes and architecture from your very own private balconies.The Condado Vanderbilt is as luxurious as San Juan gets. Book a stay in our Presidential Suite and revel in the opulent interiors, views, amenities and service.