Attractions
San Juan offers adventure, arts, sports, and history. We offer a variety of ways to experience the attractions in San Juan with tours and excursions suitable to your interests, from cultural and foodie tours to adventures for action lovers and families.
Need transportation? Bahia Limo is a bespoke transportation company which provides safe and reliable transportation services to clients visiting Puerto Rico, to make your arrival as smooth and stress-free as possible. Contact Bahia Limo today.
---
History And Culture
Celebrate Puerto Rican culture and heritage with nearby attractions in San Juan that are easy to get to and impossible to forget.
District of Old San Juan
Our most historic colonial city, Old San Juan is reflects more than 400 years of Spanish heritage. Be sure to explore "The Walled City," from centuries-old forts to quaint byways lined with shops and bistros.
Luis A Ferré Performing Arts Center
Be sure to ask us about cultural events at "Centro de Bellas Artes." A favorite ballet or opera might be on the program, or perhaps a new performance is just waiting for you to discover it. See your concierge for details.
Bacardí Rum Distillery
Puerto Rico is the rum capital of the world and the Bacardi Rum Distillery is why. This informative (and tasty) tour provides a glimpse of a proud, centuries-old tradition.
Museo de Arte de Puerto Rico
Housing the most important collection of work by Puerto Rican masters anywhere, this gallery is the destination of choice for art lovers worldwide. While you're there, take a leisurely stroll through the museum's meticulously-maintained and artfully-landscaped gardens – a horticultural masterpiece if ever there was one.
---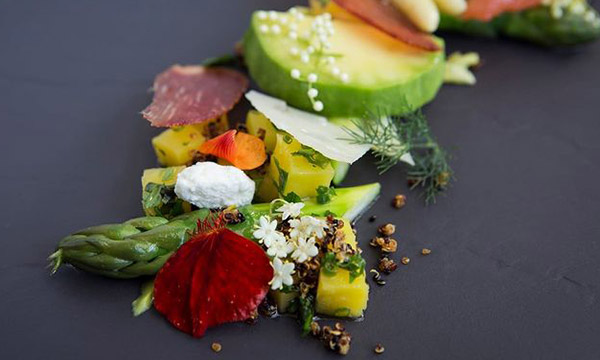 Gastronomy
Explore Puerto Rico's unique culinary landscape, savoring local flavors and popular favorites from every island district. Ask the hotel concierge for a list of recommendations, or stay on property and delight in a meal at any one of Condado's restaurants.
Concierge Recommendations
---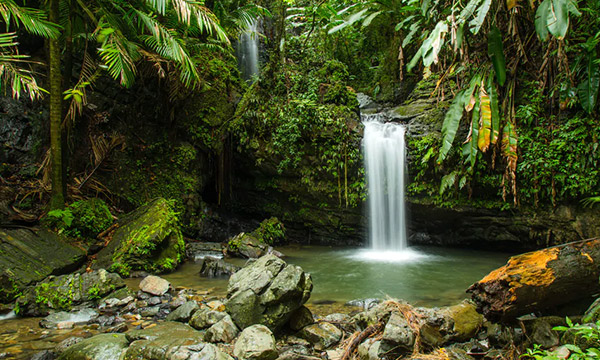 NATURE AND ADVENTURE
Surrounded by the majestic Caribbean, the island of Puerto Rico boasts a wide array of natural wonders, from white sandy beaches and turquoise waters to towering mountains and dramatic waterfalls. Take a helicopter tour to discover why Puerto Rico is regarded as a tropical paradise, or climb onboard a luxury yacht for a seaborne experience unlike any other.
El Yunque Rainforest
A cool, mountainous, subtropical region, El YunqueRainforest is home to many rare species of flora and fauna. Hike to the mountain's peak for a panoramic breathtaking view of Puerto Rico's eastern coast, or meander through the rainforest's many trails, some featuring waterfalls.
Toro Negro and Toro Verde
These dramatic mountain peaks are among the tallest on the island – and how you see them is up to you: take a traditional, non-stop hike, or choose a more leisurely pace, and camp overnight. Thrill seekers can find their fix by rapelling or zip-lining down these mammoth mountainsides.
Bioluminescent bays
Although a relatively rare phenomenon on a global basis, bioluminescent bays are easily encountered in Puerto Rico, which has three of them. These marvels of nature serve as home to hundreds of thousands of single-celled organisms (half plant, half animal!) that emit a flash of bluish light from the water's shallows. Legend has it that the population of these creatures is so high, it creates enough light to read a book!
Diving or snorkeling
Our tropical island surroundings are rich in marine wildlife and complex ecosystems – and a diving excursion is an up-close-and-personal way to experience the ocean's wonders firsthand. For those who prefer snorkels to scuba gear, our coastal waters provide countless opportunities to explore the shallows, where colorful reefs and exotic fish abound.
---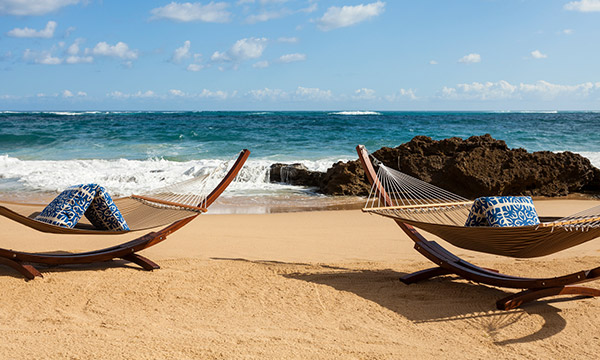 SAN JUAN BEACHES
Warm, aquamarine waters...gentle island breezes and sparkling white sand. There's a lot to love about the beaches of Puerto Rico, and no shortage of them to explore!
Condado and Ocean Park Beach
Just footsteps from the hotel's grand entrance, the beaches of Condado and Ocean Park are where locals go for sun-filled fun. Share a cocktail and light snack while basking under the blue skies, just steps from your room.
Luquillo Beach
This beautiful and popular beach located on the east coast of San Juan, popular Luquillo Beach offers a serene and scenic setting where visitors can relax after a morning of exploration in the nearby rainforest.
Flamenco Beach
Located in the island municipality of Culebra, this picture- perfect white-sand and turquoise-water beach epitomize the incomparable tropical beauty of the Caribbean.
---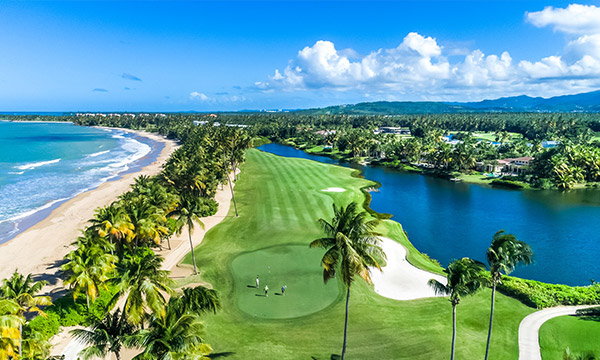 Sports
From professional golf courses to almost any water sport imaginable, Puerto Rico keeps you on top of your game.
Bahia Beach Golf course
Our sister property, the Bahia Beach Resort in Rio Grande, offers world - class play just 30 minutes away. The Robert Trent Jones Sr. designed course offers scenic fairways and impressive greens along the ocean, while providing challenging variety. Our concierge will accommodate your preferred tee time and transportation to Bahia Beach.
Wind and kite surfing
San Juan sports some of the best beaches for wind and kite surfing, for any level and ability. Inquire about these exciting water sports, as you will surely see sails and kites in the horizon from your room or while walking our beaches.
Deep sea fishing in San Juan
You are just blocks from San Juan's main nautical club, where experienced captains head out daily to practice this elite sport. Hop a boat and head to deep water, and you could find a feisty marlin on the other end of your fishing line. If you catch a snapper, the captain just might grill it for you on the boat.
---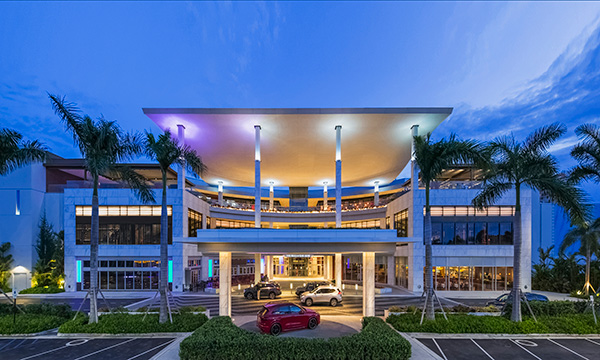 Shopping
The Mall of San Juan is home to a remarkable array of local and international fashion stores, and exquisite dining and entertainment for the whole family to enjoy.
Explore More